So, I decided this year was the year to send out a holiday card. I've been thinking about this for a couple of years now (inspired by my friend Anne who sent one a few years back), but just never got around to it. But this is the year that I am totally embracing my life as a fabulous singleton with an amazing life. Growing up in a culture that revolves around families (and rightly so, I think), I always hoped I'd be married with babies by this point in my life. That's not to say that I thought I would be (I'm what I like to call a late bloomer). But hoped. Such is not the case (and thankfully so, given the person I was thinking of marrying at one point in time). That said, I am just tired of feeling like there are certain things I can't do until I'm married. Not because anyone has said as much, just because I believed as much. But this is the year that all changes. And what better way to start it off than by sending my own holiday card with my own "year in review" update.
So, here's the card (if you didn't get one and you think you should have…I'm sorry, send me your address for next year) and a copy of my "year in review" letter. Exciting things are on the horizon for 2012 (so exciting that I'm kind of dying to see how it all turns out and to share bits and pieces as I can) and with any luck, next year's letter will make all of you insanely jealous. Because that's the point of these letters, right, to make you all wish you were me? Wait, it's not? I'm so confused. In any case, enjoy!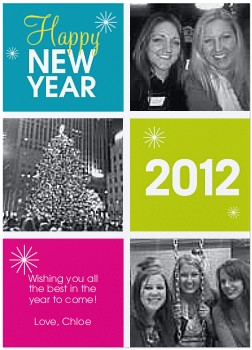 Happy 2012 New Year's
Click here
to browse Shutterfly's holiday card collection.

The Letter:
This year has been full of blessings, trials, adventures, and lots of flying from one end of the country to the other. I have been loving my life in New York (where I've been working at [a big bank–trying to keep my work life and personal life separate here on the interwebs] since I finished my MBA in the spring of 2010) and this year it has definitely started to feel like home and I've really been enjoying all the city has to offer with the help of my wonderful NYC friends.
Some highlights from the year include having lots of visits from many of you (some of whom I hosted in my itty-bitty Upper West Side apartment), lots of travel to see family (specifically my seven—soon to be nine!—nieces and nephews) and friends, spending hours riding my bike along the Hudson and throughout Central Park, visiting museums, going to the theater, playing soccer, lots of time at the beach, eating out (there are so many great restaurants here!), dating adventures (even when the dates aren't so great, they still make for fantastic stories), weekend trips to Rhode Island, Boston, and D.C., and teaching the 5-year-olds at church (this is a highlight now, but six months ago?…let's just say we had a bit of a rough start).
While this year has definitely had its ups and downs (yes, there have been downs…but who writes about that stuff in a note like this?), I feel very blessed for my family and friends, my faith, my health, and a job I absolutely love. And I hope you can all say the same!
Wishing you all the best in 2012,
Chloe